Hope & Change in Kibera
Ainsley Cobb ('24) reports on Kibera Girls' Soccer Academy in Kenya & her trip there with the PRS Global Vantage service learning group.
In February 2023 I had the opportunity to visit Kenya through my involvement in Global Vantage, a student-run non-profit organization comprised of three partner schools: Pacific Ridge School (Carlsbad, California), the Kibera Girls Soccer Academy (Kibera, Kenya) and CETYS Universidad (Tijuana, Mexico). Students from those three schools collaborate annually to produce a high-quality, cross-cultural print and online magazine to communicate what we do with "a shared voice."
This year, following the release of Issue 16 of Global Vantage Magazine, titled "Love (Not Hate)," Haley Esbeck ('24) and I, as co-leaders of Global Vantage at PRS, visited the Kibera Girls Soccer Academy (KGSA) in person. We were accompanied by Germaine Jackson, director of the PRS Service Learning Program, and our time in Kenya was characterized by profound connections, meaningful collaboration and the mutual exchange of knowledge and experiences. I wanted to share the story of our time in Kenya with images as well as words, so I also brought along my 35 millimeter film camera and took the photographs that you see in this story.
Kibera Girls' Soccer Academy started as a small community-based organization called Girls Soccer in Kibera (GSK), whose major goal was to stem the stark gender inequalities that are clearly evident in Kibera, the largest informal urban settlement in Africa and one of the five largest in the entire world, according to Habitat for Humanity. Kibera, like many other informal settlements around the world, has been labeled an "illegal settlement" by the government, resulting in all formal recognition of Kibera being stripped away. The government has absolved itself of any responsibility for the civic care of the 700,000 people whose home is in Kibera.  
Kibera is a place where strength and resilience are born out of hardship, and where the women who call it home stand tall in the face of adversity. Among them is a beacon of hope and inspiration to all who know her, Dalifa Hassan. Dalifa grew up in the western part of Kenya, in a town called Busia, and graduated from Kibera Girls' Soccer Academy in 2012. She has since received a Bachelor's Degree in Education Science from Maseno University, then returned to KGSA as a Mathematics and Chemistry teacher, in order to continue KGSA's mission of empowering girls through education. 
In the photograph below, Dalifa hugs a current KGSA student, who stands in the same place as Dalifa did eleven years ago. In a moment that captures the essence of hope and triumph over adversity, Dalifa and her student stand out amidst the joyous celebration of KGSA's first dormitory opening, their embrace serving as a beacon of light in a sea of jubilant faces.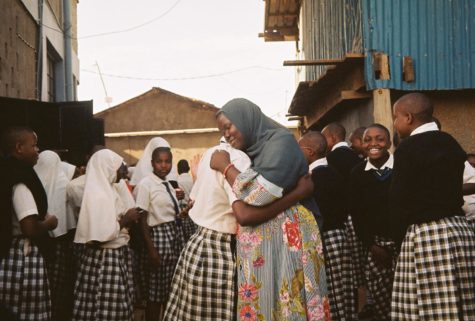 "Living life without hope is like living in a hole without anything that is of importance. Girls and boys in Kibera are living without hope in their lives. It is a routine because most have experienced problems—they are forced to get pregnant early and are also expected to get married at times," KGSA student Rachel writes.
As KGSA's first dormitory opens its doors, it provides a much-needed sanctuary for a hundred girls who have been facing the typical constraints of living in Kibera. For these girls, the dormitory represents a chance to break free from the dangers and uncertainties of life outside the school. The dormitory is a place where they can pursue their dreams with renewed vigor and determination, surrounded by safety, security and unwavering support. 
As the celebrations unfold around them, Dalifa and her student share a moment of quiet reflection. They are filled with gratitude for the opportunities that await them, as well as the determination to face whatever challenges the future may hold with courage and resilience. Meanwhile another KGSA student, Faith, who is in Form 2 (the equivalent of Grade 10 in the US) waves to my camera, surrounded by smiling classmates in the photo below.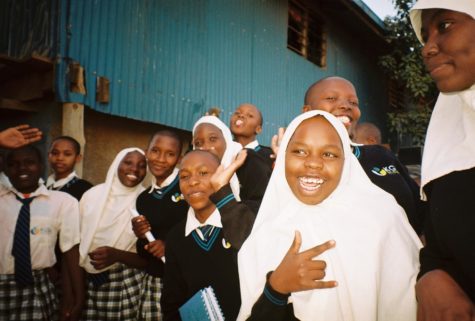 Among the crowd of celebrating KGSA students at the dormitory festivities, a voice echoes above the commotion. "If you have time, come see the new books that we received in the library! I'm so excited, I can't believe it!"
Naima graduated from KGSA in 2016, then studied coding at the Moringa School and gained a degree in Graphic Design from AkiraChix before joining the KGSA staff as a librarian in 2022. Bringing her unique skill and knowledge to support both the students and the school in its entirety, she holds an immense passion for illuminating young minds through the pages of books—and is joyful to have received two new additions to KGSA's still-growing library, the memoirs of Michelle Obama and Barack Obama, the former US president whose father was born in Kenya. Driven by her vision of KGSA's wooden library shelves packed with books, Naima aspires to curate a diverse collection of books and short stories from not only local Kenyan authors, but also international authors with varying experiences, backgrounds and perspectives.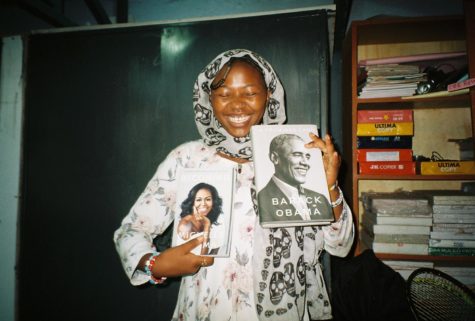 The average home in Kibera is generally constructed with mud walls, layered with concrete, a tin roof and an earth or concrete floor. The average cost of a home is around 700 shillings per month—or ten US dollars—with eight or more people living there. "It is small, but we like it that way," Merriam, a student at Kibera Girls' Soccer Academy, firmly states as we sit inside her home, accompanied by her mother. Although Merriam does not reside at home during the school year—due to the fact that she boards at KGSA's newly constructed dormitory—this home is everything to her. The family photos and the garlands that adorn the mud walls reflect her life here. While adjusting to Merriam's absence has been difficult for her mother, she chooses to cope with the situation. With Merriam in the dormitory, her mother doesn't need to fear for her child's safety.
As we exit Merriam's home–accompanied by roosters and her pet kitten named Nelson Mandela—Blessing, a fellow KGSA student, stands in the walkway awaiting the ideal moment to capture an image of Merriam and her mother. She utilizes a camera from Kibera Girls' Soccer Academy's journalism club, the Shedders. The Shedders—so named because they shed light on the untold stories of their community—serve as a means of empowerment for the girls at Kibera Girls' Soccer Academy, giving them a voice and a platform to express themselves. Through their work, they show the world the resilience and strength of the people of Kibera, who face significant challenges, but who also possess a deep sense of community and hope for a better future.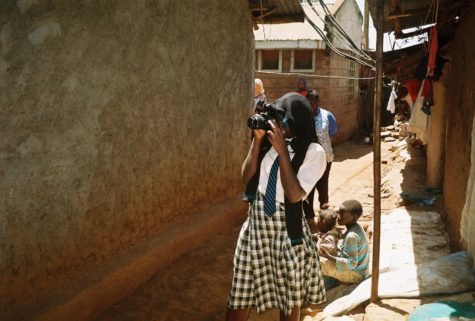 The primary caretaker of children in Kibera is most commonly a female figure, making single fathers a rare occurrence. Blessing's father—the exception to these demographics—has been present in her life since the day of her birth. He takes great pride in coaching women's soccer teams, as he sees so much promise in the talent of female soccer players in Kenya. For the past twenty years, he has coached women's soccer teams from youth to pre-professional, including Blessing's first soccer team. Although Blessing now plays on KGSA's soccer team, she still works on honing her soccer skills through the coaching of her father. The two spend their weekends watching television shows in their home, accompanied by posters of respected female soccer players pasted on the surrounding walls.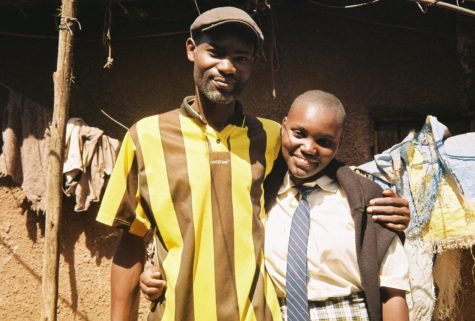 Through direct collaboration facilitated by meetings, workshops, and intimate conversations, Global Vantage and the KGSA Shedders delved into the importance of student publications having a presence in communities such as Kibera. The two groups of students, alumni and faculty advisors—from PRS and KGSA—created an environment where together we learned about journalism, the creation of print publications, photography and how to share the untold experiences of individuals in the best ways that those can be exchanged. This training was one of the main purposes, and the most enjoyable highlights, of our PRS Global Vantage trip to Kenya.
We also enjoyed discovering other parts of Kenya, thanks to our KGSA hosts. For example, we visited the Kazuri bead-making center in Nairobi. In 1975, a small workshop in Nairobi began experimenting with handcrafted ceramic beads. They named their venture Kazuri, which translates to "small and beautiful" in Swahili. Recognizing the great need for stable employment and empowerment among women in the villages surrounding Nairobi, the founders, both single mothers, made it their mission to create an enterprise that would provide exactly that. They aimed to uplift and enable women who were struggling to find opportunities to support themselves and their families. Through years of dedication and hard work, Kazuri has grown tremendously. Today, it has a workforce of over 340 skilled women who create stunning ceramic beads and unique pottery. Each bead and piece of pottery is handmade and hand-painted in rich, vibrant colors that reflect the spirit and culture of Kenya.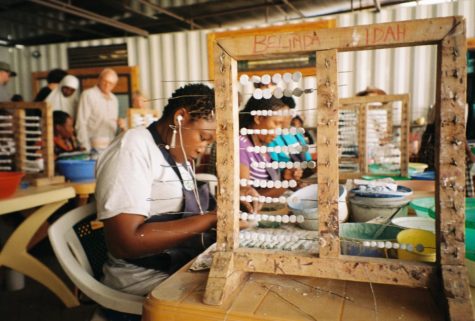 Students and faculty from KGSA and PRS were also able to visit the Sheldrick Wildlife Trust on a school field trip. Wildlife, ranging from the African savanna elephant to wildebeests, find refuge in Kenya's preserves and national parks—and the Sheldrick Wildlife Trust operates one of the most successful orphan elephant rescue and rehabilitation programs in the world. The trust offers orphaned elephants—and additional wildlife such as warthogs and yellow baboons—a safe haven to heal and work towards being reintegrated into the wild. For many of us, this was our first opportunity to see an African savanna elephant face to face. The fencing along the elephant's habitat was engulfed in smiles, as students reached out to touch the dust-covered skin of the elephants.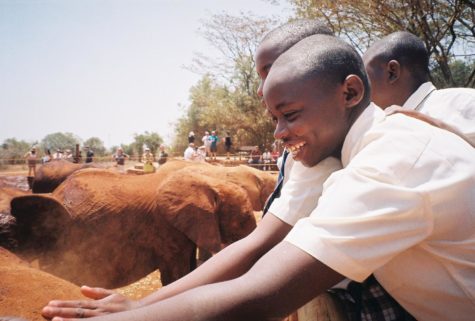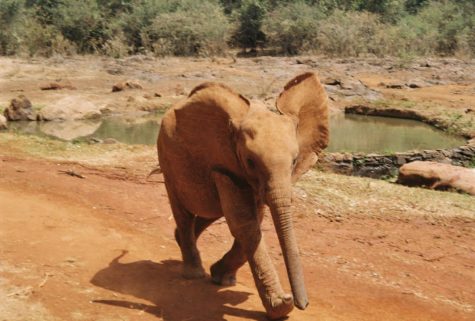 The Giraffe Center operates with the purpose of educating Kenyan school children and youth about their country's wildlife and environment, as well as providing local and international visitors an opportunity to come in close contact with the world's tallest animal species. On a field trip to the center, we were able to feed the Rothschild giraffes and gain a deeper understanding of the vital protection efforts in and beyond Kenya.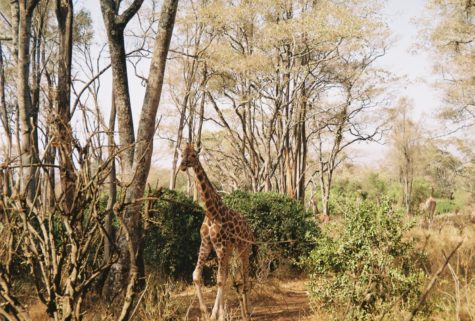 Nairobi National Park conserves and manages Kenya's wildlife for the benefit of nature and humanity. On the wide open grasslands of Nairobi National Park, the horizon is shared by the skyscrapers of Nairobi and the skyscrapers of nature—giraffes. We embarked on a sunrise safari to view the plethora of diverse wildlife species that the national park hosts, including the rhinos in the photograph below.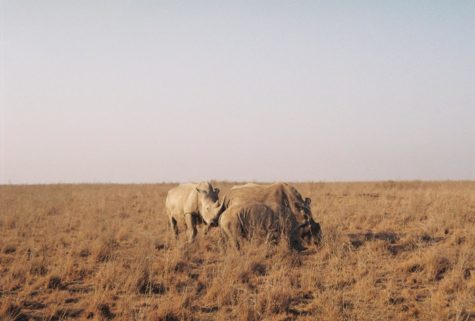 For the last words of this article I want to turn to Asha Jaffar, who is a graduate of the Kibera Girls Soccer Academy. She was president of the Journalism Club (KGSA Shedders), Head Girl, top of her class, and president of the Student Board, then later graduated from Moi University and became a professional journalist and a social policy advocate. She is witty, courageous and speaks her mind passionately and fluently in three languages—Swahili, Nuba and English. She has worked with international media like Der Spiegel, The Guardian and the BBC, along with publications and non-profits in Kenya, such as Action Aid.
Asha continues to work diligently to be an effective journalist who tells her story and the stories of young women in Kibera, while also correcting the misrepresentation of Kibera in online and international news platforms. I am including her perspective in this article to provide balance, depth and "an inside view" from Kibera and KGSA. Asha's words undo stereotypes and look forward to a future of hope and change for KGSA, Kibera and Kenya.
"The power of words—the keyword is words. Whatever I read might influence my life in either a positive or negative way. Not only me, but also anyone. Over the past years I have always had the habit of surfing the internet, reading articles people write about Kibera. Every time I clicked to read an article I was awestruck, time in and time out, not at the creativity of these writers, but at their misinformation, lack of love and negative energy. I was always baffled by the amount of misinformation out there. 'Kibera is dangerous.' 'Kibera is full of goons and dependents.' Kibera this, Kibera that. All people ever report about is the negative part of Kibera, and my question always remains: 'Why not Kibera, a breeding site for talented, witty, and hardworking individuals?' No, this would not bring donors in. Donors want the negative stories, right? So that's what people give them. 
"The fact is, if you want to know about Kibera, why don't you book a flight to Nairobi and pay us a visit? Trying to influence young lives with sad stories about Kibera—your writing might give hope to someone or destroy someone, so why not choose to inspire that kid in Kibera who thinks he wants to be the next footballer, writer or artist? I am a writer, and my main aim in life is telling stories, and trying to create a picture for people, and that is what I love to do. Telling people that Kibera is full of talent and not AIDS and poverty. Positive stories, ladies and gentlemen—give hope. And hope lives longer than donors. 
"One of my favorite quotes by Bruce Barton says it all: 'Nothing splendid has ever been achieved except by those who dared to believe that something inside them was superior to circumstance.' You walk around Kibera, and you meet people with the most infectious smiles. Positive people. Even though we might not have a lot, we are working on it. Soon, with a lot of people speaking out—not donors, but themselves—we will have a better place. A safe Kibera.  
"Someone once said that if you want to help the people in the slums, then you have to let them do the job themselves. No amount of donors and no amount of international pressure can change Kibera. It is the people living in it. I always say no one will come from another place and make your house the way you want it to be. People have their own choices and preferences. And those people are here in Kibera. We want change, but we do not want people writing negative things about Kibera. If you want to help change Kibera, if you want to make that three-year-old kid in Kibera have hope and believe he can be whatever he wants to be, then let them read positive stories. Success stories. Not poverty articles, with faces of 'poverty-stricken children,' but positive stories with happy and hopeful faces."
About the Contributor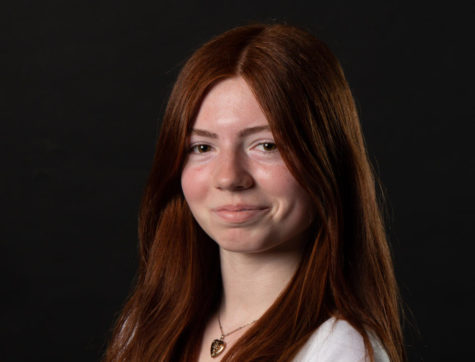 Ainsley Cobb ('24) J1, journalist
Ainsley Cobb is a junior at Pacific Ridge School and is currently in her first year of Journalism & Media Studies. With a broadening interest in international...