Argentina v. France: The Most Exciting World Cup Soccer Final Ever!
Looking back at the spectacular 2022 World Cup Final with rival PRS teachers (um, soccer fans)—Mrs. Shrivastava & Mr. Lyman for Argentina vs. Mrs. Lebars and Mr. Jones for France.
The 2022 World Cup Final was a back-and-forth, high-scoring, intense, drama-filled, and legacy-building football match. Many have concluded that this was the best final ever, and going through the process of writing this article made us realize just how good this match was in terms of the football being played, and how important it was in terms of the result and the impact on fans.
In this article we will take you through the build-up, the turning points, and the impact of the match. And we will be focusing specifically on the perspectives of people at PRS, especially the rivalry of teachers with close connections to Argentina and France. We interviewed Mrs. Shrivastava and Mr. Lyman for the Argentinian perspective, and Mrs. Lebars and Mr. Jones for the French perspective. Mrs. Shrivastava is a Spanish teacher and was born in Argentina, while Mr. Lyman is an English teacher, but he has lived in Argentina and his wife is from there. Mr. Jones and Mrs. Lebars are both French teachers and they also have strong family connections with France.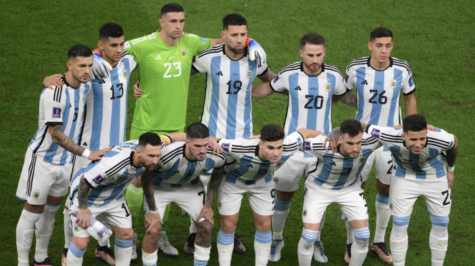 Leading up to the final, both France and Argentina were playing with incredible skill and chemistry, putting on strong displays in the semis. Argentina cruised to a 3-0 victory over a Croatia team that was no longer viewed as an underdog, but a powerhouse. The previous week Croatia had knocked off juggernauts Brazil, who had been favored by many to win the tournament.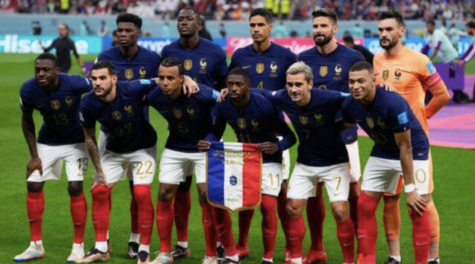 France also kept a clean sheet winning 2-0 over this World Cup's Cinderella story, Morocco. Morocco didn't allow a goal in their games against Portugal or Spain in the knockout rounds and was the first African nation to advance to a World Cup semi-final. They had the backing of all of Africa and all the momentum going into the semis, but France ended their dream run and advanced to the final. 
When we asked Mrs. Shrivastava how confident she was in Argentina's ability to win the final, she highlighted what she thought made her team special. "What I like about the team is the comradery that they have and how they play so well together. They actually support each other so much, so I was hoping to see that in the final."
When we asked Mr. Jones about his confidence levels as a France fan before the final, he said, "I was confident for them to win. I think I would've been more confident if all our best players—Benzema, Pogba, and Kante—were there. I think nobody can beat us if we have those players on our team."
Like Mr. Jones said, there was a long list of injured players for France at the 2022 World Cup. This included three starters from the team that won it all in 2018, especially two key midfielders, N'golo Kante and Paul Pogba. Also among the injured was 2022 Ballon D'or winner, Karim Benzema. Despite this massive adversity, France still made it to the final, proving their immense depth and star power.
Speaking of star power, everyone knew the match would come down to each team's X-factor, the current top two players in the world. The stage was set for a Messi vs. Mbappé final. When we polled PRS students before the tournament about who would be the MVP of the final, 49 people said Messi and 13 said Mbappé. There were a few votes for others, but Mbappé and Messi overwhelmingly dominated the votes.
Throughout the tournament, it felt like it was destined to be Messi's World Cup. It was the last chance for maybe the greatest player of all time to win the biggest honor in football. However, France was an intimidating team and Mbappé too had been dominating in the tournament, while the France defense looked solid—and France had World Cup momentum from their victory in 2018.
There was a lot of nervous excitement in the air around PRS leading up to the final, as most people who weren't France fans wanted Messi to win, but saw France as a formidable foe. According to results from another survey we conducted right before the final, 75% of PRS community members wanted an Argentina victory, but only 58% thought Argentina would actually win. 42% picked France to win, but only 25% wanted their victory. 
Superstitions were a big topic in conversations before the final. Mr. Lyman acted upon his superstitions the most, from deciding what jersey to wear, to when to go surfing or get a haircut. For Argentina's first match of the tournament, he wore their jersey from the 2014 World Cup, in which they lost to Germany in the final. This time around, with Mr. Lyman wearing that 2014 jersey, Argentina lost 2-1 to Saudi Arabia in the opening game of the tournament, despite being massive favorites to win that encounter. "I quickly realized we gotta get rid of that shirt because it's bad luck," Mr. Lyman said. "And then I put on their official shirt for this World Cup and I stayed with that."
Mr. Lyman also realized that Argentina was "guaranteed to win" in every game if he went surfing beforehand. This led to some stress on the day of the final, as the game was at 7 AM here on the West Coast, too early for Mr. Lyman to go surfing and get back home in time for the kickoff. When Mbappé scored his second penalty and third goal of the game to tie it up in extra time, Mr. Lyman thought, "Man, I should've figured out a way to go surfing this morning."
Mr. Lyman's superstitions ended up working out for him, however, as Argentina didn't lose a game after he changed jerseys. Even though he broke the pre-game surfing superstition on the day of the final, Argentina won the World Cup and Mr. Lyman still had his luscious locks of surfer-style hair. Then, after Argentina's World Cup victory, Mr. Lyman shaved his head to the surprise of many people. It turns out that was also part of his World Cup superstitions. "I wanted to cut my hair for some time, but I made sure to not cut it during the World Cup because I had long hair and then they were winning. So, on the day that they won, that's when I shaved my head".
Mrs. LeBars was actually the opposite of Mr. Lyman, as usually she wears her jersey every match day. However, she forgot to wear a jersey for France's first game, in which they beat Australia 4-1, so she decided to not wear a jersey for the rest of the World Cup. 
Mrs. Shrivastava wore her Argentina scarf, not only during games, but all the time during the World Cup—and she could regularly be seen walking around campus repping her country. Mr. Jones was similar, as he always wore his France jerseys on game day. Additionally, if you've had the pleasure of being his student, you may have seen his posters and decorations in support of the French national team in his classroom, H135.
When the teachers looked back at the game, they agreed that France didn't really show up for the first half, but then the real drama started.
At halftime, Argentina was up 2-0 and Mrs. Shrivastava was overjoyed. When asked about the emotions that she felt, she said she was optimistic, but "this is soccer… anything can happen."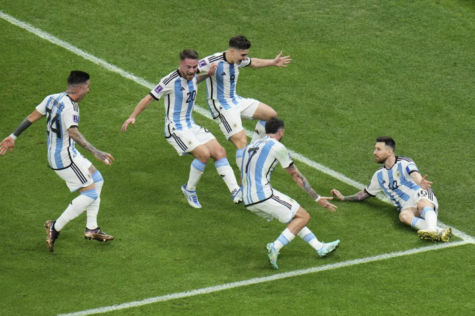 For French fans, the 2-0 score was discouraging, but the game was not over. Mrs. LeBars shared that she had mixed emotions at halftime, but she stayed optimistic: "I was divided… my mother-in-law, we almost threw her out of the house because she kept saying, 'It's done, it's over, they're not gonna win.' I am kind of an optimistic person and I always think, 'they're gonna do it, they're gonna do it.'" Mrs. Lebars knew that her favorite player, and France's superstar, Kylian Mbappé, had a plan and would have an impact.
During the second half of the game, the score stayed the same until the 80th minute, when Mbappé scored the first goal for France with a penalty kick. This goal shifted the momentum towards France, and the state of the match abruptly changed. 
Just one minute later, Mbappé scored his second goal, tying up the game. This quick change of fortunes had French fans overjoyed. Mrs. LeBars described her reaction: "Oh we screamed! I think our neighbors heard us. It was a big relief and confirmation that we were right and that we would win this game."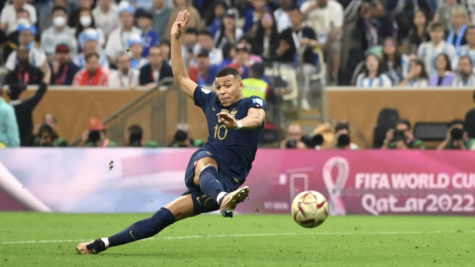 French fans across the world shared the same emotions, as in a matter of minutes Mbappé had given them hope, then belief they could win. On the opposite side, Argentinian fans were stressed but had to keep faith.
In regard to the second goal, Mr. Lyman said, "Now that was devastating. There was a big concern, but Argentina is a team that can take it through overtime. They don't seem to fall apart."
Mr. Lyman's prediction was right again, as Argentina struck first during overtime, in the 108th minute. Who else but Messi to give Argentina back the lead, scoring his second goal of the match? Mr. Lyman stated that he wasn't 100% confident after Messi's goal because he "knew there were 10 minutes left on the clock." Argentina fans were overjoyed, but not convinced that the match was over considering the nature of the game so far.
French players, showing resilience once again, pressed on. With 5 minutes left, France won a corner. The ball fell to Mbappé on the edge of the penalty box, and he blasted a shot towards goal that was blocked. But wait—the referee ruled that it came off defender Gonzalo Montiel's arm, and awarded a penalty to France. In the biggest, clutchest moment of the tournament so far, Mbappé coolly slotted the penalty home for his third goal of the game—a hat trick in a World Cup final, something that had only been done once before in the entire history of soccer!
The teams were tied at the end of extra time, so penalty kicks would determine who would win the 2022 World Cup. Of course, both Mbappé and Messi scored their penalties, starting the shoot-out off strong and getting their respective fans excited and hopeful. As the shootout progressed, Argentina established themselves as calm and composed, and after a save from Martinez, Dybala took advantage of the opportunity and put Argentina ahead 2-1. After one more missed penalty from France, and Paredes and Montiel calmly slotting home their attempts, it was over. Argentina had won the World Cup for the first time since 1986 and, more importantly, for the first time with Lionel Messi after four previous attempts!
Overall the 2022 men's World Cup was possibly one of the most impactful and meaningful football tournaments in history. Mbappé proved himself again on the biggest stage as the best young player in the world, also winning the golden boot for scoring 8 goals throughout his campaign, the most of any player in the tournament. His potential has no limits, and many believe he could surpass even Messi and Cristiano Ronaldo by the time his career is over. 
Emiliano Martinez, Argentina's goalkeeper, saved two penalties in the final shootout, so it was clear he would win the award for best keeper at the tournament, the Golden Glove. Now he has cemented himself as not just one of the best goalkeepers in the English Premier League club competition, but in the world.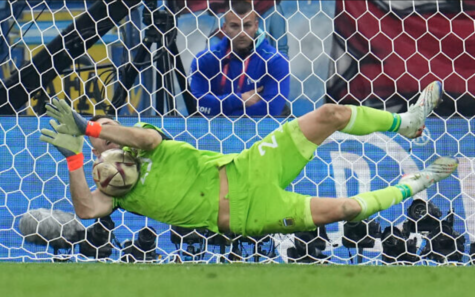 In order for Messi to be able to win the World Cup, he needed a dynamic supporting cast of skilled and experienced younger players. Enzo Fernandes burst onto the scene as one of the most promising youngsters throughout the tournament and was key in Argentina's numerous victories. In turn, he was awarded the FIFA Young Player Award, which Mbappé had earned for himself in the previous World Cup in 2018.
The 2022 World Cup was expected to cement the legacy of the two most dominant footballers of the 21st Century, Lionel Messi and Cristiano Ronaldo, as the tournament was to be the "last dance" for both of these amazing players and rivals for the title of GOAT.
Over the past couple of years, Ronaldo jumped around from club to club and dealt with struggles we had never seen before from the Real Madrid and Manchester United legend. But by no means had Messi been cemented as the GOAT because, like Ronaldo, he had yet to win the greatest competition in world soccer.
Even though Messi had won the Copa America in the previous year, finally getting an international trophy under his belt to match Ronaldo's European Championship with Portugal, he came into the tournament as the player with the most to prove, shouldering the most pressure out of anyone. Despite this, Messi delivered, leading his team to glory while scoring 7 goals and 3 assists in 7 games. He was awarded the Golden Ball as best overall player at a World Cup for the second time in his career—but even more importantly he had brought home a long-anticipated World Cup win for his country, Argentina.
With this victory, Messi got the last word in his longtime rivalry with Cristiano Ronaldo and cemented himself as the undisputed GOAT, conquering the world to become widely recognized as the Greatest Player of All Time.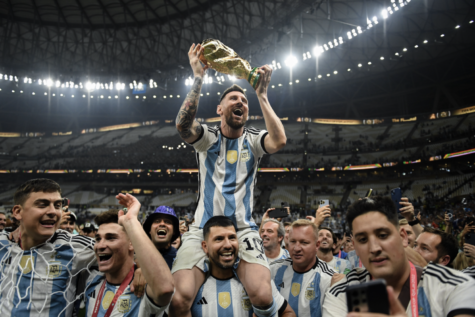 About the Contributors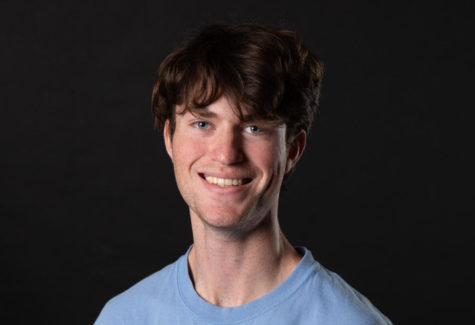 Sam Steiger ('23) J1, journalist
Samuel Philip Steiger, or Sam, is a senior taking his first year of Journalism and Media Studies at Pacific Ridge School. He is interested in sports, music...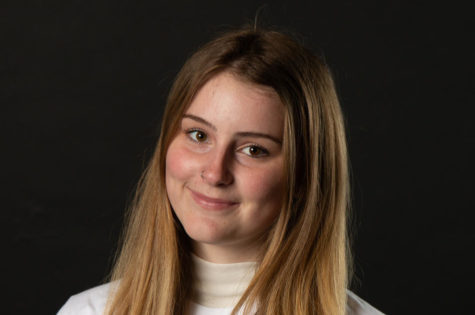 Sammy Weitz ('23) J1, journalist
Sammy Weitz, a senior, is in her first year of Journalism & Media Studies at Pacific Ridge School. She is interested in writing about sports, world...