Stepping Up to the Challenge: Girls Varsity Basketball 2021-22
Last year the Pacific Ridge girls varsity basketball team finished the season with a solid 9-5 record, with a 4-2 record in Division 3 of the Pacific League. This year they accomplished even more, achieving an overall 15-11 record after moving up a division level, and finishing the season with an impressive nine wins in Division 2 of the Pacific League.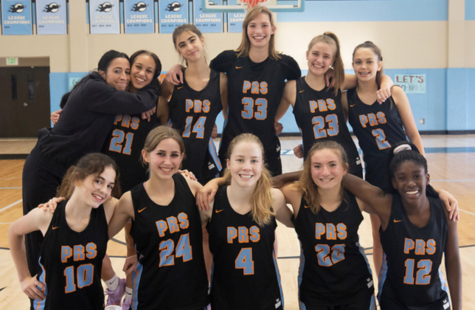 Throughout the season the team showed great strengths, mainly in their transition offense and half-court defense. "Everyone is working on being a threat on offense, not just our top two scorers," said Solange Dzeketey ('23). She also had this to say about the team's overall success: "My proudest moment on the team this year was when we made it to round two of the Division 2 CIF playoffs because we, as an eleventh-seeded team in our first year in D2, beat the sixth-seeded team, Lincoln High School."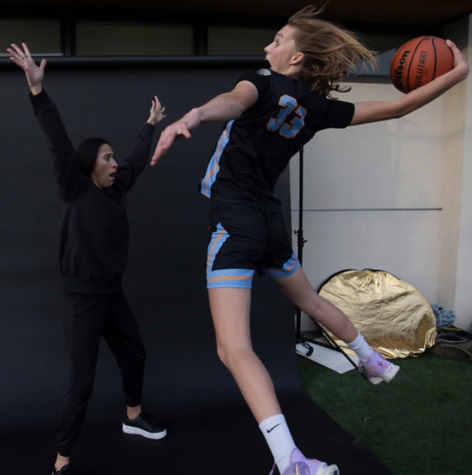 Jenna Gorton ('22) was always a force on offense during the season, eclipsing 1,000 career points as a Firebird, making her the top-scoring PRS girls basketball player ever. Jenna capped off a very successful Pacific Ridge career by recording a triple-double on her Senior Night, a fitting way to showcase her career achievements. From tip off to the final buzzer the home crowd on Senior Night roared throughout the game, giving Jenna the best possible recognition, and the final score was a 70-40 win over Santa Fe Christian.
Other players certainly did their part as well. Brooke Rogers ('24) gave the team her scoring ability, averaging 14.5 PPG in league play. Solange Dzeketey left it all on the floor each and every game, locking down the other team's best player defensively on a consistent basis. All in all, the team was a well-rounded group, everyone shining in their ability to showcase their unique skill sets.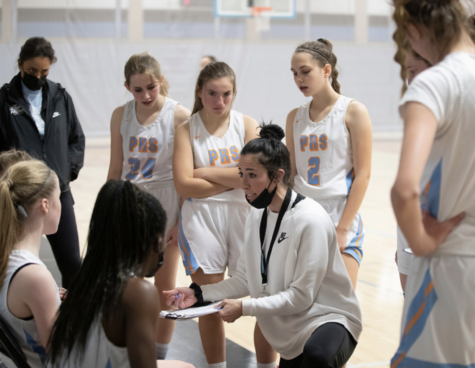 There were, of course, some things that the team worked on improving during the season, mainly their positioning and their composure. "We tend to rush passes and make bad decisions when we feel pressure on offense," Solange said. But those errors were mostly corrected as the season progressed and the whole squad worked super hard to develop their game, individually and as a team.
It wasn't all just hard work and intense games. "The most fun moment was when we skipped practice and went to laser tag for Jenna's birthday in January because nobody expected it and it was a great time to bond," Solange explained. And Senior Night wasn't just about the win and the amazing stats, but also about the joy and excitement that the team shared.  "The most hyped and energetic moment of the year was during Senior Night when Jenna had a triple-double," Solange said. "We actually had a big crowd for that game and it was awesome."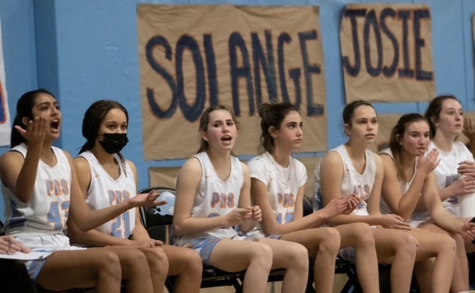 At the end of the regular season, the Pacific Ridge varsity girls were labeled as an 11th seed and took on the 6th seeded Lincoln High School girls basketball team in the first round of the playoffs. Though the seeding labeled the Firebirds as the underdog, they went on to beat Lincoln 55-44, on the road no less. Though the Firebirds did then lose to Imperial, who were eventual finalists in Division 2 CIF girls basketball, the PRS team spirit and the bonds they created throughout the season really did show that they were a well-rounded group of skilled players, a tightly knit team that took a huge step forward, achieved success and created lots of happy, memorable moments along the way.
To honor their achievement, here is the full roster for the PRS Firebirds girls varsity basketball team for 2021-22:
Jenna Gorton ('24)
Kennedy DiFiore ('23)
Solange Dzeketey ('23)
Katrina Fraher ('23)
Josie Twardowksi ('23)
Brisa Burman ('24)
Maya McAvoy ('24)
Brooke Rodgers ('24)
Melisa Okur ('25)
Samira Seendripu ('25)
Adelaide Tadder ('25)
To read about Luca Colmignoli's experience and process writing this story, click here.