The San Diego Padres: Looking Back & Looking Ahead
The MLB playoffs in 2022 were a breakout success for the San Diego Padres, so 2023 brings big expectations.
Down three runs to their arch rivals with everything on the line, in a stadium packed with fans, the Padres prepare to come to the plate in the bottom of the seventh inning. In just a few minutes, the whole city will be in pandemonium. Hit, after hit, after hit, the Padres lineup turns the game upside down, as they take a 5-3 lead over the Dodgers. The Padres put themselves in position to finally flip the script on the team that has dominated them for years.
Last year, the Padres played in a championship series for the first time in 24 years. The last time they won a divisional series was against the Houston Astros in 1998. Though they eventually came up short against the Philadelphia Phillies in the National League Championship Series (NLCS) in 2022, they proved in their playoff win against the Dodgers that they are capable of beating any team going into the 2023 season.
Throughout the course of last season, The Padres were able to overcome several obstacles that both analysts and fans thought could end their push towards a postseason appearance. From major setbacks such as Fernando Tatis Jr.'s mistakes, to Manny Machado's ankle injury against the Rockies early in the season, the team was certainly doubted by much of the national baseball media.
Despite these setbacks, players like Manny Machado and Jake Cronenworth stepped up to the challenge, with Machado playing through injury and Cronenworth having his second All-Star season. The performance of these key players, combined with help from a couple of blockbuster trade acquisitions during the season—players like World Series champion Juan Soto, closing pitcher Josh Hader, and power-hitter Brandon Drury—would help bring the team to their most notable playoff win in decades.
Their defeat of the Dodgers in the NLDS brought joy to communities all around San Diego, including the community of Pacific Ridge. The ripples of this win are still felt, and have pushed the Padres to become a more confident team, making them a much watched team around the country for the 2023 season.
Video: Josh Hader closes out the Dodgers, playoffs 2022.
Pacific Ridge School head of school, and lifelong Padres enthusiast, Dr. Bob Ogle had some thoughts about the NLDS, which he attended in person. "It was just so fun," he reflected on the Padres win over the Dodgers. "I'll continue going to games my whole life, but I suspect that even if I go to a World Series I'll never go to a game as joyful as that one."
According to MLB.com, as of the start of the 2023 season, the Padres were sitting strong at third place in the official power rankings. They sat above the Dodgers, who were then ranked fourth. This was thanks to some key additions, as well as some difficult but necessary removals from the roster that made them look to be a much improved team.
The first major signing for the Padres ahead of this season was a deal with former Boston Red Sox shortstop Xander Bogaerts, a superstar player who has already won the World Series twice with Boston. He's an experienced player that is joining San Diego for the long run, where he'll spend the next eleven years of his career at an annual salary averaging about $25 million.
Last year, Bogaerts posted a .307 batting average with fifteen home runs, making him likely to be yet another pivotal, highly anticipated player in the Padres lineup. He'll be able to fit right in with other high batting-average players like Soto and Machado, and with protection like this around the order, run production is bound to be very high. He made a great impression on the fanbase in his first twenty-one games of the current season, with five home runs and a .350 batting average. Since then, he has struggled somewhat, but has still played elite-caliber defense at shortstop.
Video: Xander Bogaerts starts strong for the Padres, 2023 season.
The second signing of December was designated hitter Matt Carpenter, former Cardinal and Yankee, who made it clear in an interview why he chose to join the Padres. He spoke about how important it is to him to join a team at such a special time. Following his signing, he stated, "No disrespect to the beautiful San Diego weather, but I didn't come here for the weather. I came here because this team's got a really good chance to win a World Series, and I want to be a part of that." It's not common to see someone leave one of the most decorated teams in sports history—the New York Yankees—to join a team that's never won a World Series, which shows just how important this season is to Carpenter, and how high expectations are for the Padres.
Carpenter posted a .305 average with 15 home runs and 37 RBI in just 47 games last year with the Yankees. If he can continue to perform the way that he did in his short time with the Yankees, he could easily become one of the best hitters in the Padres' lineup, and one of the best designated hitters in baseball.
The final signing of December was the addition of former Mets relief pitcher Seth Lugo, who posted a 3.60 ERA in the 2022 season. Lugo opened up his 2023 season incredibly well, starting his first game as a Padre against the Rockies, going seven full innings giving up only four hits, one run, and dealing seven strikeouts to the Rockies' hot-at-the-time lineup. He is continuing to look good on the mound a few weeks into the season.
Other notable signings for this season include veteran slugger Nelson Cruz, who is on a 1-year, $1 million contract. Also signing on was veteran starting pitcher Michael Wacha, who posted an 11-2 record with the Red Sox last year. Starting/relief pitcher Robert Suarez, Jake Cronenworth and the team's unquestioned leader, Manny Machado, have all been re-signed or signed to extensions that will keep them in San Diego for years to come. These players were key parts of the team's historic season last year, and retaining them on the roster will continue to be crucial to the team going forward.
It's no secret that many members of the Pacific Ridge community are looking forward to the rest of this highly-anticipated 2023 season, based on the Padres' previous season heroics and these new additions to the roster.
Dr. Ogle stated, "I'm excited to see how they interact together, because it's about the depth of a lineup—it's not about just one player, which we've seen before. So I'm excited to see how such a deep lineup can interact together." He added, "even in the last couple years, I don't think that we could honestly say we were a team with a top five, top four, top three, whatever, chance of winning the whole thing. Now you can legitimately say that, and that's really fun."
Sam Swiecki ('23) also has high expectations for the team this season. "The Padres will be better than last year thanks to free agency and Tatis coming back. They should make a deep playoff run and be serious World Series contenders. "But they are still the Padres, so who really knows?"
In the first few weeks of the 2023 season the Padres have had a lackluster record of 20-22, but they are staying somewhat competitive at seven games back in the National League West Division. This is a team that has more talent in its batting lineup and pitching selection than it has seen in its full history, so to bet against them making a comeback would likely be a mistake. They have spent big on big-name players that are dead-set on bringing the team a championship in the coming seasons. Franchise owner Peter Seidler commented on his player-spending spree and his commitment to winning, "I kind of like spending money. You can't take it with you."
"They might just have the highest expectations of any team," said Sam Swiecki. "The fans in our community expect a championship, MLB Network hosts are betting on them, but most importantly, the players themselves are expecting to win it all." This reiterates just how high the expectations are. "For the first time in decades, the Padres actually have something to lose."
In Dr. Ogle's final statement regarding the rest of this season, he said, "The thing about sports is that it's about opportunity, and luck. Certain things just have to break your way—it's not just about building a roster. So I'm looking forward to it—it's gonna be fun."
About the Contributor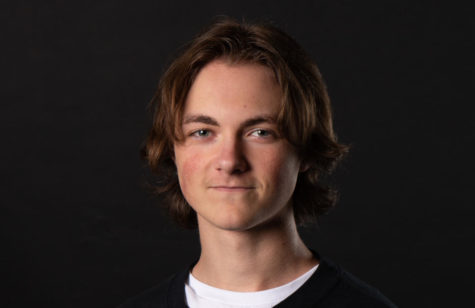 Evan Buchholtz ('23) J1, journalist
Evan Buchholtz is a senior at Pacific Ridge School and his interests include sports, the environment and especially music. For The Egg he is a writer focused...