Jill Ellis at PRS (POV Buchholtz)
In "The Story of My Story" series, PRS student journalists share the experiences they have, and the lessons they learn, while creating the stories they publish.
On March 30, 2023 former US Women's National Soccer team coach Jill Ellis joined PRS Student Journalism for a panel at Pacific Ridge. The two-time world cup winner shared with us her ideas on effective strategies both in coaching and everyday life. These ideas included creative analogies and ways to go about life in a more positive and productive way.
Many of my own friends didn't even know who Ms. Ellis was going into the event, or that the US Women's National Team had won the last two World Cups. But her passionate words captivated our audience at the Community Life and won over the audience. Later my friends were honest in telling me that the event was surprisingly enjoyable and engaging. During the event I could hear the teachers and younger students sitting behind me talking about what Ellis was saying in a very positive manner. I even heard a teacher say, "I should be taking notes." 
Though some of the sporting questions may not have seemed very thought-provoking on paper, Ellis had plenty to say about each subject. She explained and even drew out analogies and metaphors to help us understand her way of thinking when it comes to coaching soccer teams. Specifically, on questions about her World Cup victories, she explained how very different the wins were from each other, and how each of them felt rewarding in different ways. She explained that the first World Cup victory was mostly about relief, due to many players ending their careers that year and the US not having won the world title for a while. The second World Cup title was more rewarding as they had to face far more challenges on the road to that victory. Ellis shared some great ideas and advice that everyone in the room would be able to use, as well as sharing inside stories of our country's World Cup wins, which everyone in the audience was excited to hear about.
She explained that preparation is the key to confidence, which is why learning how to deal with the "pressure cooker" is so important. She also explained how each individual player is crucial and how she presents this idea to her players when they might be struggling to find their place on the field. I found this concept to be the most applicable to my own life out of anything she said. I don't, nor does anyone, need to change who they are to fit in wherever they are. Everyone ends up where they are because of their existing strengths, not because they have potential to be more like someone else. 
"Just remember what got you through the door. You have a special quality, you have a special gift. Don't try and be something you're not in this moment, but lean into what got you there."
These words are what I will remember the most from the event.
To read the main story about Jill Ellis at PRS, click here.
To read about the experiences of other PRS student journalists when staging the Jill Ellis event, click on the following links for reflections by Mykelle Brainard, Gwen Laats and Nolan Agresti.
About the Contributor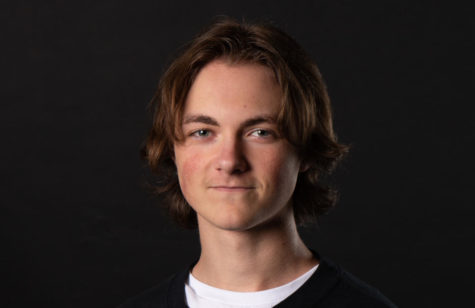 Evan Buchholtz ('23) J1, journalist
Evan Buchholtz is a senior at Pacific Ridge School and his interests include sports, the environment and especially music. For The Egg he is a writer focused...