Maradona Interviews Pelé
Two legendary players of world soccer chat about the game, fame, pressure and pranks. Transcribed and translated from Spanish by Erick Maganda ('23).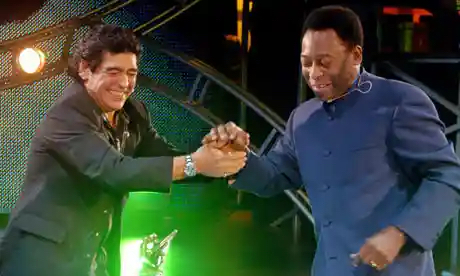 Pelé and Maradona are considered two of the best soccer players of all time, each playing their own important role in the development of the world's most popular game. Although they have both passed away, their legacies live on domestically and globally.
Pelé, otherwise known as Edson Arantes do Nascimento, was born in Três Corações, Brazil on the 23rd of October of 1940. For the majority of his life, he played for Santos FC, but would then go on to play for the New York Cosmos for three seasons. At the global level, he is seen as the best soccer player of all time for having won three World Cups with the Brazilian national football team. At home, his legacy remains stronger than ever. Bella Miller ('23), a PRS student who originally comes from Brazil, says that Pelé "drove Brazil to be seen as an outstanding country with this sport and also created this whole kind of cultural change." Today, Brazil is widely known for its soccer team and has won five World Cups, more than any other country. Unfortunately, Pelé passed away at the age of 82 on the 29th of December, 2022.
Diego Armando Maradona was born in Lanús, Argentina on the 30th of October, 1960. Throughout his career, he played for Club Atletico Boca Juniors, FC Barcelona and S.S.C. Napoli. In 1986 he helped lead Argentina to winning its second World Cup, against West Germany, in Mexico. At the same time, his successful career was plagued with controversies which would ultimately lead to him taking a step back from the spotlight. Scott Lyman, an English teacher at PRS, has lived in Argentina and describes Maradona as "a cult figure that you have to reckon with." When remembering Maradona's greatest moments you can't ignore his struggles with drugs and a life surrounded by bad influences. Sadly, Maradona passed away at the age of 60 on the 25th of November, 2020.
This video interview I have translated comes from Maradona's own show on Argentinian TV, La Noche del 10. (The number 10 being Maradona's shirt number as a player.) This interview is from an episode where Maradona hosts a long conversation with Pelé. They talk about different topics ranging from how Pelé deals with fame to the alleged drugging of Brazilian player, Branco, with sleeping pills during a match between Brazil and Argentina in the 1990 World Cup in Italy. Although Maradona and Pelé were from rival soccer superpowers, and sometimes were quoted as saying sarcastic things about each other, these two soccer legends were clearly able to coexist happily and with deep respect during this interview.
In the interview, a serious topic that gets brought up briefly is Pelé's son, Edson Cholbi do Nascimento, also known as Edinho. Edinho was a former goalkeeper who was arrested in 2005 due to charges of money laundering and drug trafficking in Santos, Brazil. Edinho has continued to deny the charges, although he confesses that he has had drug use issues in the past. Pelé had continued to support him and claimed that his son was innocent.
Maradona and Pelé also discuss the work of João Havelange, the seventh president of FIFA from 1974-1998. He is known for having expanded the work of FIFA into developing countries in order for soccer to grow globally. However, he was a controversial figure, like his successor, Sepp Blatter, who continued the expansion of FIFA and global soccer. In the interview, Maradona and Pelé express their own ideas about the worldwide expansion of soccer, including some thoughts on diversity, equity and inclusion in the global game.
The interview was originally in Spanish, with Pelé showing his multilingual skills as a Portuguese speaker who can also do interviews in Spanish and English.  I translated the interview to English with the help of Scott Lyman and another PRS teacher, Cecilia Shrivastava, who both have expert knowledge of Argentinian Spanish.
Maradona: Thank you, thank you for accepting the invitation. Thank you especially for this moment that you're giving to the Argentinians on La Noche del 10. I wanted to thank you and to ask you, how are you? 
Pelé: Before responding and thanking you, I was watching the television and in the episode with your family, it was a lovely thing. And I ask you, how long have you been hosting this show, one year? It's a great pleasure, lovely, truly lovely. You know that a lot of people in Brazil–the journalists, you know how journalists are–"Pelé you're going to Maradona's show, you're going there?" Why not? I was in the farewell, you remember that I was at the farewell? 
Maradona: Of course, yes, yes. 
Pelé: And I go because you are a winner. It's an example and I believe that we need to be together. And it is an honor for me to be here, you can believe that that's from the heart, from the heart. Whole-heartedly. 
Maradona: Thank you very much. No, the honor is all mine in being able to have you on my show and being able to ask you, as it happened to me too, what is fame for Pelé?
Pelé: I think that for me it was a bit different from all the great singers, great artists, the soccer players, because I started very, very early. I had the pleasure, at 15 years old, to be in the team Santos. At 16 years, I had my first game against Argentina in the Maracanã, at 16 years old. At 17, I already had my first World Cup. So my life was already set. So, my personality is already formed from that. I think that for many actors, many players, many artists–when you have your personality already formed at 22-23–you reach fame, and that's where they have a problem living with fame. But for me it was a normal thing. I pray to God that never changes, that it never dies, because that has always been my life. It's a part of my life.
Maradona: Of course, I asked because we all have moments of weakness. I mean, there are times when one wants to have privacy, but it isn't possible. How did you live all of your life with harassment from journalists, harassment from people, because you were always the main attraction? This is what I was asking you, how did you absorb all of the good that people sent your way, and all of the bad that people sent your way, because there's people for everything, no? 
Pelé: That's true, you lose a little bit of your privacy, no? At this point, you have to have great control. Psychologically, you have to be prepared because you lose all of your freedom. You can't go out with your family, you can't go to the movie theaters because there's a lot of people. But, I was always able to control that. I always had the joy of having a family that understood. My brothers, my sisters, they always supported me. So, I believe that with family, that is very important in life, no? Family is how you're able to go through with these problems. But I feel good. I don't have a problem with talking to people, giving autographs. I don't get nervous, I don't have any problem with that. 
Maradona: What is your relationship with Havelange, "the king"? 
Pelé:  This most critical moment has already passed, you know! You also had big problems. There are moments, I believe that us soccer players have to impose, we have to fight for our rights. I believe that the class of soccer players, I say in general, isn't a very united class. Because today FIFA, for those who don't have any knowledge, FIFA has more members than the UN and UNESCO. So, the soccer family is a very big family, very strong. And we aren't that united because we can see that there are many soccer players all over the world that have problems, that are going hungry, that are going through many hardships. And nothing is being done, there is no pension, there is nothing strong in favor of the players. So, a lot of the time you have to go to the managers, the club presidents, president…listen! There is a moment to stop. 
Maradona: And piecing everything together, no? What place does "the king" Pelé now have in FIFA today? These are the questions that I ask not as a journalist. I mean, no journalism–here we are just talking. 
Pelé: Me and the world. Me and you and the world, hahaha!
Maradona: No, but don't think that I'm asking you this from the side of journalism. I ask you this as a soccer player. 
Pelé: Well, in all seriousness I think that now FIFA is a lot more democratic. Because on the soccer commission, made by young players, older players, and two women. There are women on the commission. Perfumo is a part of the commission. 
Maradona: Great friend. 
Pelé: I work with Perfumo. So, the first time the players have a chance to discuss the rules, the changes to the soccer rules. And the president Blatter, and this board at least this, they are a lot more democratic. So, I believe that FIFA is now treating soccer better. It does great work with poor countries, with sports fans, children's sports. So, FIFA is democratizing. 
Maradona: Of course, I would ask you, I mean, with what you're telling me that they are becoming in charge of the kids and the poorer countries. Havelange has already declared that they are going to make soccer fields with the profits from the World Cup. I still haven't seen a soccer field in Santiago del Estero which is an Argentinian province. How do you, the players within FIFA, address this problem?
Pelé: Well, right now there is a program in FIFA that is part of the budget from the sponsors, that is very big, that is a lot of money. Part of this budget, of this money, is to help the less fortunate countries, the poorer countries. I believe that it's a very important program. And women's soccer as well because women's soccer is getting bigger, it's growing a lot around the world. So, they are starting to support women's soccer as well. So, I believe that at this moment, FIFA is doing an important job. Talking about FIFA, I have a question I wanted to ask you, me and you. 
Maradona: And no one else! No one is listening to us! 
Pelé: This incident, I wasn't there because I wasn't at the Cup of '90. This incident where your team placed sleeping pills in the water of the players of the Brazilian selection and the truth is… 
Maradona: It wasn't me! It wasn't me! It wasn't me! I swear on my two daughters, whom I love the most in this world, it wasn't me! It's that…
Pelé: No, no, no. Well, you know who it was, you know who it was.
Maradona: You name the sin, not the sinner. No, it's that, it's that, it's that there was a bit of that. There was a bit of that because Branco was dead, he was. But I even say as well that that incident was notorious. What was also notorious was the superiority of Brazil in this match, in this game. Because Brazil with Careca, with Müller, and with Valdo was very superior compared to Argentina. I remember that Goyko was going from one side to the other and Brazil missed goals that shouldn't have been missed. I mean, in this anecdote it remains that Branco was put to sleep by the Argentinians. But in reality Brazil failed a lot that day for them to not win, to not pass the round, no?
Pelé: I only ask you this question because I talked with Branco and you were a good friend of Careca, of Alemão, because you played together in Naples. And I said, Maradona isn't a good friend of yours, how is a good friend going to do something like this?  He didn't know what to say…
Maradona: No, no, no. That's why I told you I say the sin, but not the sinner. I didn't need to put anyone to sleep to win a game. This is the truth. I know that it's a difficult question and I almost died because of drugs. I was almost dead and I thank God and Dalma and Giannina for being able to enjoy life and to be able to enjoy this moment with you. If you want to comment on it, then comment–but if not, we'll leave it there. I would like to offer you my solidarity and my strength as a father at this moment as you are going through a tough situation with your son. And I say that from my heart. 
Pelé: I thank you from the bottom of my heart. It's an important thing. You know that he's already more or less in Brazil. My son didn't make friends with the people he should have and is paying because of it. I think you know my son, until recently he was the goalkeeper for Santos. Good boy.  And that can happen with anyone. But for my son, I hope he doesn't have big problems in the future. But, you are an example because you are a winner. And I hope that my son can have the strength to understand that and to move on without problems. And we, you are starting a program that is for the whole world. I believe that you and we can together do a lot of things in this world and help a lot of people. That is why I am here. It is a pleasure.
Maradona: I appreciate you for being so sincere and I'll make myself available. I'll be there for anything you need, above all things in difficult moments. And I believe that together we can do many things, like you said. We are going to become more united because until now we were distanced. We are going to talk, we are going to make our points of view clear, and we are going to do things for the people. 
Pelé: Of course, with faith in God everything is possible. Believing in God, everything is possible.
To read the original Spanish conversation between Maradona and Pelé, transcribed by Erick Maganda, please click here. To read about Erick Maganda's experience and process writing this story, click here.
About the Contributor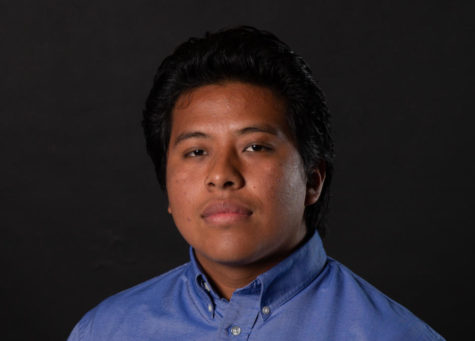 Erick Maganda ('23) J2, journalist
Erick Maganda Santiago is a senior at Pacific Ridge School and he is interested in politics, reading and languages. For The Egg he is a writer and photographer...