Jill Ellis at PRS (POV Agresti)
In "The Story of My Story" series, PRS student journalists share the experiences they have, and the lessons they learn, while creating the stories they publish.
Ever since I was a kid, soccer has always been one of my favorite sports. I would have dreams of playing for professional teams and winning the World Cup. So when I first heard that two-time FIFA Women's World Cup champion coach, Jill Ellis, was coming to PRS and I would be able to interview her in front of the whole school I was super excited. As a journalist and a soccer enthusiast, I knew that interviewing Coach Ellis would be a once-in-a-lifetime opportunity and I was thrilled to be a part of it.
I and the other staff members of The Egg worked tirelessly to ensure that this would be the best Community Life we could do this year. We worked on brainstorming questions and getting in contact with clubs and service learning groups to give everyone an opportunity to ask Coach Ellis questions. But coming up with the questions wasn't the toughest part of this production. We had to set up and plan the onstage interview, not to mention managing a crowd of 500 students and teachers. There were difficulties along the way, such as having to reserve a parking space for Coach Ellis and the worry that we wouldn't look professional enough on stage. But not to worry, we were able to overcome all obstacles.
To our benefit, Ashay Kalthia's senior signature was to design and create Journalism class T-shirts and hoodies. We worked with Mike Agresti at Freedom Branding to make sure that the T-shirts came just in time for the event. The team decided to wear these custom made T-shirts on the day of the interview, which not only made us look more professional, but also gave the whole Journalism team a sense of unity.
Each member of The Egg had their own job: stage managing, video projection, audio mixing, etc. This was the key to having a successful Community Life. We made sure to test the equipment multiple times, from the microphones to the speakers, to ensure that everything was working perfectly. On the day of the interview, we arrived early to set up and rehearse, making sure that everything was in place and ready for Coach Ellis's arrival. But even before The Egg crew showed up, the PRS tech and facilities crew was setting up the stage and making sure this event could run smoothly. Led by Mr. Gentile and Ms. Holman, the PRS Facilities and IT staff did a super job to support our event with Ms. Ellis.
As the interview started, the audience was surprisingly engaged, which is not always the case with our Community Life audiences, so we were relieved. During the interview Coach Ellis shared her insights and experiences, not only about soccer, but also about leadership. It was truly inspiring to hear her speak and to learn how she has impacted the sport, and being onstage with her to talk about it was amazing. 
Overall, interviewing Coach Ellis was a fantastic experience for me and everyone else at The Egg. We learned the value of hard work and paying close attention to detail. I think that this Community Life really showed what PRS Journalism is able to accomplish.
To read the main story about Jill Ellis at PRS, click here.
To read about the experiences of other PRS student journalists when staging the Jill Ellis event, click on the following links for reflections by Mykelle Brainard, Gwen Laats and Evan Buchholtz.
About the Contributor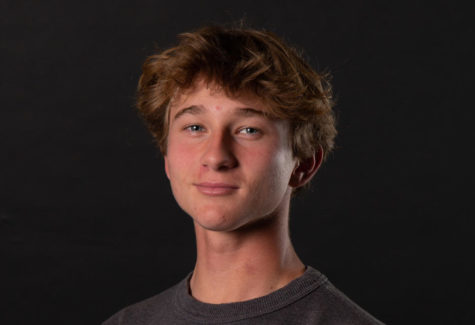 Nolan Agresti ('23) J1, journalist
Nolan Agresti is a senior in his first year of Journalism & Media Studies at Pacific Ridge School. He is also the leader of the service learning group,...